Foobar2000 is lightweight and very good music player for windows. The best player for Linux in 2018 which allows many customizations and theme changes. If you want you can install it on Linux using wine. The next steps shows how to install and added as shortcut to the panel:
Download the latest version from foobar2000 v1.4: foobar2000
Open it with wine
Install in Standard installation
Select Destination Folder
Select Installation Type - I prefer Full
After the start of the app select preferences:
Colors - dark blue
Main layout - Album List + visualizations (alternate)
Playlist Layout - Separate Album & Artist column
If you have problems with the sound output you can:
File
Preferences
Playback
Output
Select Output device
Adding shortcut for the foobar2000 app(Linux mint panel example):
Create new shortuct
Use this settings:

Name: foobar2000
Command: env WINEPREFIX="/home/user/.wine" wine C:\windows\command\start.exe /Unix /home/user/.wine/dosdevices/c:/users/Public/Start\ Menu/Programs/foobar2000.lnk
Comment: Play, organize and tag your music.
Close button minimize to notifications:
File
Preferences
Display
Default User Interface
Background and Notifications
Close hides
Adding files to the library:
drag and drop Linux folder in the player.
or
Library
Music folders
Add..
Select Folder
Folder view of songs:
File
Preferences
Display
Default User Interface
Quick setup
Select Album List (if not selected already)
Select View ( the bottom of the playlist)
by folder structure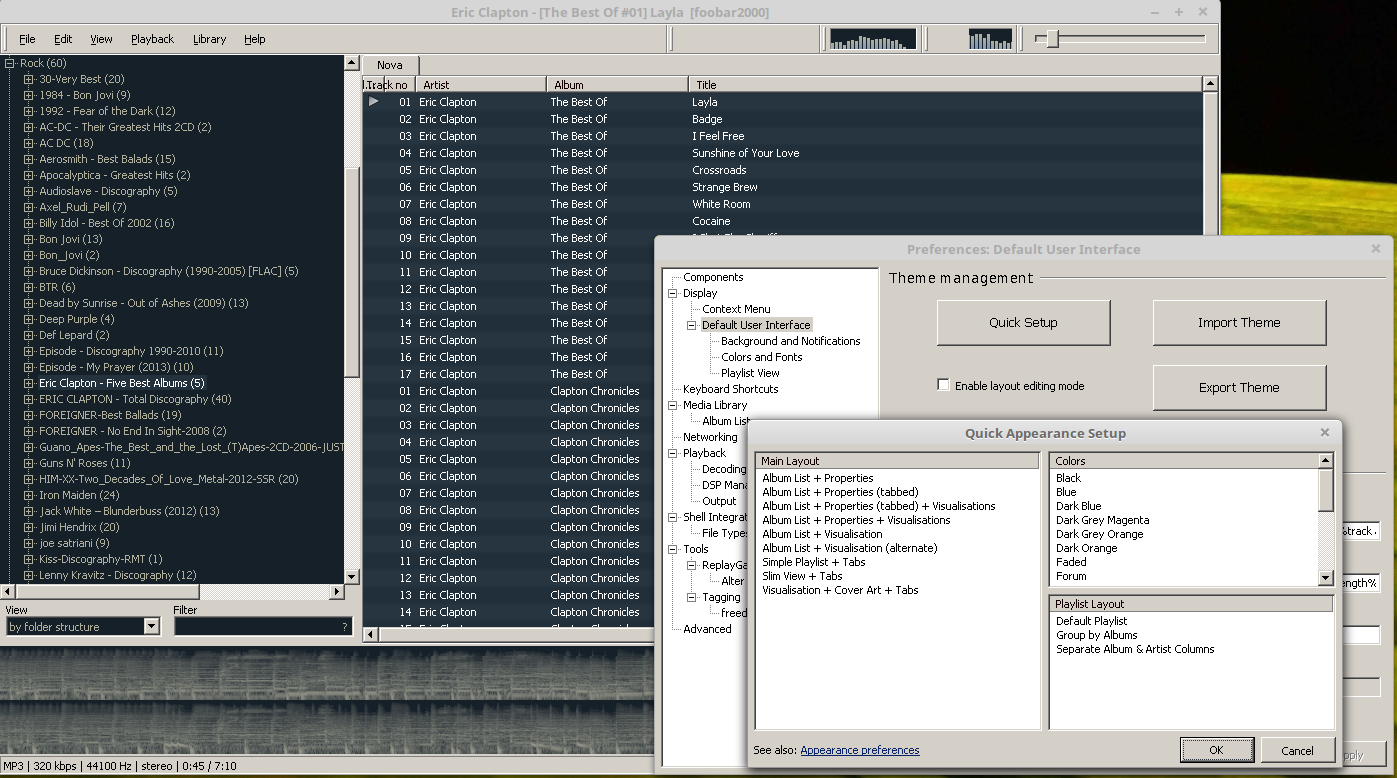 If you get error like:
Unrecoverable playback error: Unknown error code (0x80070057)
Most probably your output device is empty or missing. You have two options:
Add/Change the output device by:
File
Preferences
Playback
Output
Select Output device
Reset all settings to default once
File
Preferences
Reset All
Note: in some cases like HDMI, more than one sound card, wine apps using sound card you can have problems with the sound and/or youtube videos playback. In order to solve them you can install pavucontrol volume control software. In this auido control you can select the output device and detect what could cause a problem.