Looking to solve - Windows 10 displays a black screen with the loading cursor - and nothing else works? If so let's show you several steps which are going to resolve the problem.
The best working option for me is solution: Step 5: Uninstall latest updates when disk is full or updates failed. Common problem for laptops with small disks is to get a full disk which leads to black screen.
Solution 1: Use Windows 10 shortcuts to hack the "black screen"
The first thing which you can try ( when you have black screen on Windows ) is checking if some of the special keyboard combinations works like:
Ctrl + Alt + Del - to show the security screen - if this one works you can try:

Task Manager

File

run new task

Type explorer.exe

Press OK
Another option for:
Ctrl + Alt + Del

press and hold Shift

click on the Shutdown symbol (bottom right corner of the screen)

Shutdown.
Another combination which might be useful:
Windows Key + P - Open the Project pane
Windows Key + Tab - Open Task View
Ctrl + R - Open command prompt
Ctrl + Shift + Escape - Task manager shortcut
Ctrl + Windows Key + B or Ctrl + Windows Key + B + Shift - restarts you graphics driver
Solution 2: Connect an external display
The second option is to test if the second display is working. Problems with graphic drivers might cause black screen or artefacts. In order to test this option connect another display and restart the computer.
Solution 3: Show Sticky Keys dialog
Another simple solution is to use sticky keys. Press the Shift key five times to turn Sticky Keys on. Once you see the dialog you can press - Yes.
The computer might restart and solve the problem or report a problem. In case of error the computer will try to do Automatic Repair - which is covered in next steps.
Or
5 times Shift
Click Ease of Access Center
Select Cancel (bottom right corner of the window)
Control Panel
Computer Settings
System Restore
Restart
Solution 4: Windows 10 full shutdown or hard reset
The first thing which you can try is full shutdown for Windows 10 by pressing:
Shift + selecting the shutdown option
or
Shift + Power button
Sometimes the fast or hybrid shutdown might cause problems for Windows.
For laptops you can try to do: press and hold the Power button for 15 seconds to reset.
Solution 5: Uninstall latest updates when disk is full or updates failed
If you have failed updates or full disk this will result in a black screen for Windows 10. In order to solve this problem try:
Restart or Hold Power button for 15 secs - until the computer restart
Press F11 or F8 - depends on the computer - if it's not working then - turn on and off your computer three times
Yоu will see the Recovery Environment - Automatic Repair
Choose Advanced options
Next Troubleshoot
Now Advanced options
From here you have several options

System Restore
Startup Repair
Startup settings
Command propmt - you can use it to check disk space on our system
Uninstall Updates

Uninstall latest quality update - this will remove last weekly updates from Microsoft
Uninstall latest feature update - this will remove last yearly updates from Microsoft
Solution 6: Safe Mode to solve Black Screens
Windows 10 Safe Mode is really useful if you need to troubleshoot Black Screens. How to enter in Safe Mode on Windows 10? Follow next steps(if F11 or F8 is not working for you):
Turn on and off your computer three times

Press and hold the power button until the computer shuts down and
press the power button again. As soon as the spinning wheel starts, press and hold the power button

Click Advanced options
Select Troubleshoot
Click Advanced options ( from the Troubleshoot )
Select Startup settings
Select Restart
After restart you can see the new startup menu.
Choose Safe Mode with Command Promptor Choose Safe Mode
The computer will restart in Safe Mode.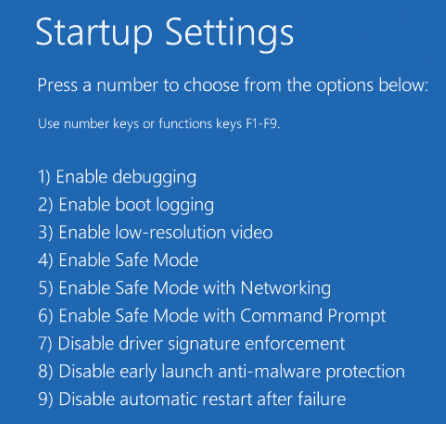 Next you can check Device Manager by: Windows key + X.
Solution 7: Windows 10 recover from a drive
Start the computer
Press and hold F11
Windows 10 Advanced Startup Options
Troubleshoot
Advanced options
Startup Repair
System Restore
Choose an account to continue
Enter password if any
Select a restore point from the menu
Note: if the Windows installation disk is full you can't use this option and you will need to uninstall latest updates ( Solution 5 )
Solution 8: Windows 10 black screen error messages
Some typical error messages from Windows 10 black screens:
We couldn't complete the updates
Undoing changes
Don't turn off your computer.

Your PC did not start correctly
Solution 9: Perform Hardware checks on disk and ram
The last option is to verify that hardware like RAM and disk are OK. This can be done without BIOS or by using live Linux USB. Here you can find the BIOS method (example for HP laptop):
Start the computer
Press the f10 key several times to enter the BIOS setup
Navigate to diagnostics
Select

Memory Test
Primary Hard Drive Self Test
Note: If any test fails(Primary Hard Drive Self Test), you should attempt to save any important files from the drive if the drive is still functional