VMware Workstation Player is one of the choices for virtualization in 2019 that allows you to run multiple, isolated operating systems on a single machine. These guest machines can then be configured to run multiple operation systems like Windows, Linux, MacOS, android and many more. With VMware Player you will be able to run different applications from your native OS or even play games.
The advantage of VMware Workstation Player is that allows higher GPU allocation which can be helpful for some games.
In this article we will check how to install it on Ubuntu 18.04/ Linux Mint 19.
All steps covered in video: Easy install of vmware player 15 on Ubuntu 18 / Mint 19
Download
From the VMware site you can download the latest version for your OS. This is the link: Download VMware Workstation Player. For this article we are interested in: VMware Workstation 15.0.2 Player for Linux 64-bit. Once the download is complete you can prepare your system for the installation. The download file will be similar to: VMware-Player-15.0.2-10952284.x86_64.bundle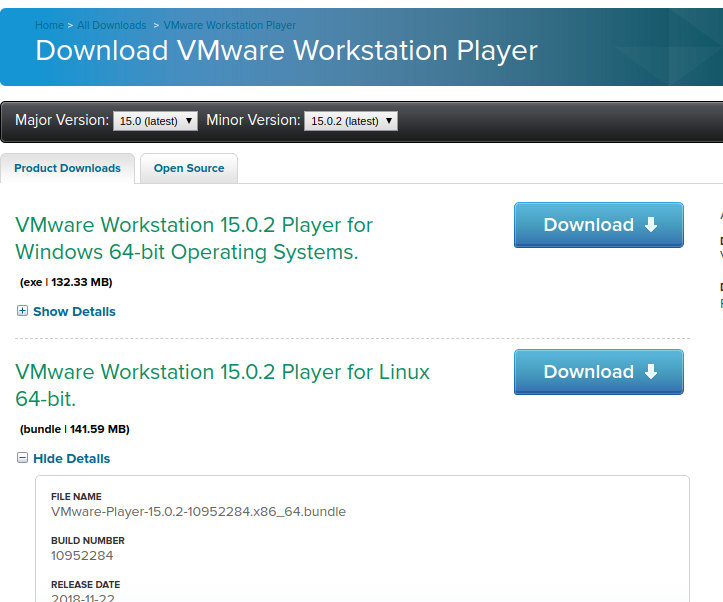 Preparation
In order to install and run VMware Workstation Player you will need some additional packages for your system. It's better also to update your system to the latest possible state with:
sudo apt update
sudo apt install build-essential

Installation
For the installation you need to find the folder where you donwloaded the bunddle file. And then open it in the terminal. So something like this:
cd ~/Downloads
chmod +x VMware-Player*
sudo ./VMware-Player*

Installation process is simple but you will need to accept several End User agreements, would you like to share information about your usage. You can enter a license key or add it later.