Looking for a wallpaper changer, picture slideshow, automatic downloader and manager for desktop backgrounds for Linux Mint? If so in this article you can find several options how to achieve that.
Video - Keep your Desktop fresh by automatic change of backgrounds
Step #1: Automatic Change of Desktop Backgrounds in Cinnamon
By default Linux Mint Cinnamon includes a background slideshow and collection of fancy images. In order to use default wallpaper changer you need to follow:
Right click on Desktop
Change Desktop Background
Select folder for the slide show

or import new one from the plus sign

Tab - Settings
Play backgrounds as a slideshow - enable it
Select - optional:
Select Picture Aspect - optional
Step #2: Change Wallpaper in Linux Mint 19 Mate
Mate edition doesn't support automatic change of wallpapers. If you like to have this feature you need to install additional software which is described in the next steps. You need to choose one of them or a combination - depending on what you like to have.
Changing the Wallpaper picture can be done by:
right click
Settings
Select picture for Desktop Background
Step #3: Variety - Automatic Downloader and manager for Wallpapers
Variety is an advanced wallpaper changer, downloader, and manager which can be used in Linux Mint. It supports a variety of sources for wallpapers, including local files, media RSS feeds (Picasa, deviantART, etc.) and online services:
Flickr
Wallhaven.cc
NASA Astronomy Picture of the Day - I really like this one
Works well in both Cinnamon and Mate. This software has many options and features which makes it best choice for automatic background manager and changer.
The package is available from the Software Manager. Once the package is installed you can use it to setup automatic download and change for wallpapers.
Start Variety Preferences - from the menu or the status bar
Tab General

Change wallpaper every - select time for image rotation
Images - select which sources to be used for images or add new ones like comics from reddit.com or Wallhaven.cc
Download a wallpaper every - select folder and time interval for downloading

Tab Effects

Apply Filters like: Oil painting, Pencil sketch, Grayscale etc
Random quotes - simple and customizable. If you like to use another way for quotes in Linux Mint you can check this article: Linux Mint and Quotes Desklet

Color and Size - additional customization for the orientation and the colors gama
Step #4: Shotwell - Picture organizer and Wallpaper changer
Shotwell is a digital photo organizer designed for the GNOME desktop environment which can be used in Mate and Cinnamon. Images are imported and organized in collections in different ways.
It can be installed with package manager or by using next commands:
sudo add-apt-repository ppa:yg-jensge/shotwell
sudo apt-get update
sudo apt-get install shotwell

If you want to set automatic wallpaper change by using Shotwell you need to follow:
Open Shotwell
Import pictures for the Picture Slideshow
Select the imported pictures
File - from the menu
Set as Desktop Slideshow
Last step is to select

time for the picture rotation
Home and/or Lock Screen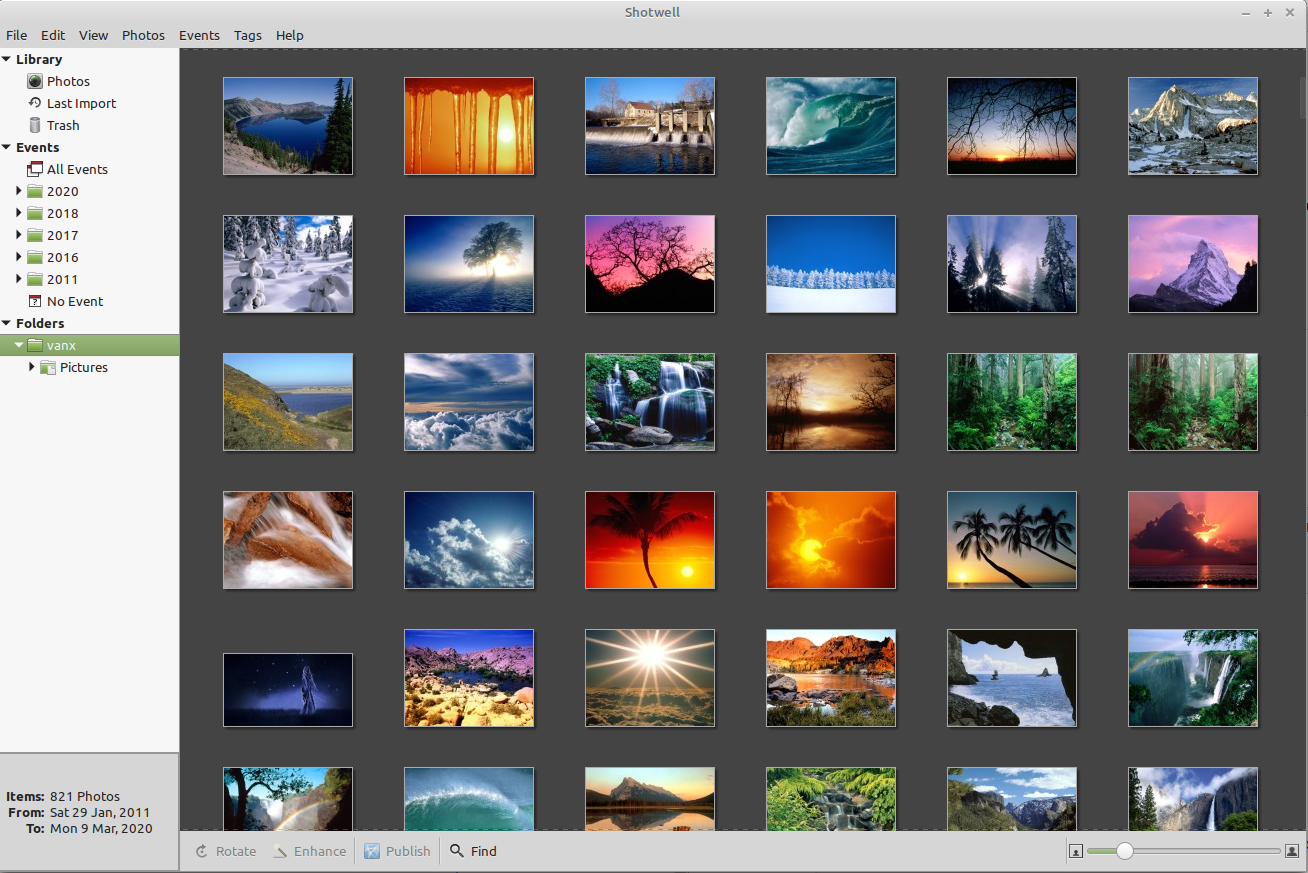 Step #5: Wallch - Wallpaper changer for Linux Mint
Wallch is another automatic background changer for keeping your desktop fresh and new. It has basic features related to desktop background management.
In 2020 the package seems discontinued and different users report problems related to crashes or no change of the background. The package is available in software manager: